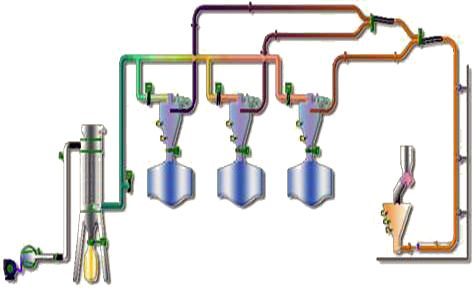 A characteristic of the pneumatic suction conveying installations is the ability to have multiple pick-up points, corresponding to a single destination, and then using a single vacuum filter. You can also create a direct interaction between dilute phase and other pressure systems, both in dense and dilute phase.
If this versatility allows the use of a single system that pulls multiple products, we must yet pay close attention to the materials to be conveyed.
Among the recommended applications we can mention unloading of raw materials conferred by ship, tankers, container, bin or big bag. A performing solution may be of mixed type, assigning the extraction to a vacuum system, which picks up the material to deliver it to a relay station in pressure, which in turn will perform the load of the storage silos.