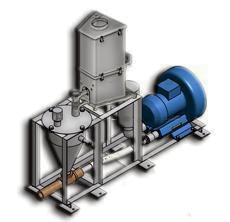 We do not define a precise number of J-PACK models. This features the extreme versatility of the model, upon which you can design a pneumatic conveying with different characteristics of energy balance, optimized for each process and application.
In general, we can say that the system is used to make dilute phase pneumatic conveying. It may provide various types of feeding, such as a screw feeder or a micro doser, or an exhaust system with seal as a rotary valve or a double flap valve with spherical dome valve Dome-RILS with inflatable seal.
These systems can be equipped with level gauges for the purpose of controlling the flow of material, such as an inverter or continuous gravimetric systems on load cells, to manage the flow rate adjustment by weight control.
The discharge of material takes place through a transition, usually it is a hopper of more or less small volume. It can be equipped with level and high pressure switches or meters as well as an outlet vent in order to channel the possible leakage of fluid or a small filter cleaning.
The pneumatic conveying can be set by rotary valves of suitable characteristics, by a Venturi eductor standard or in-line, powered by compressors or blowers, or more simply by an attack to the compressed air network.