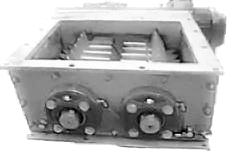 The passage of the material is through a grid contrasted by a system of cutting edges on single or double shaft. The shape of the cutting edges varies depending on the problem to face. Rosada ILS studies each specific application to achieve the construction of dedicated machines with reels or custom shaped blades.
The Lump breaker is generally moved by a single drive unit, with simple mechanical or oil-bath lubricated transmissions.
This is an extremely versatile model, capable of operating in various industries such as steel, chemicals, energy, food, even in hazardous environments such as ATEX and others.