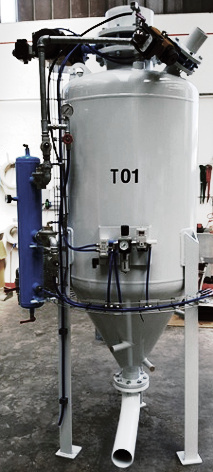 A screening system produces sand that must be sent to ten silos, located in various locations of the plant. The Customer requested a system that an operator could use in an easy and immediate way, without using electric or pneumatic drives.
As for the material, the great criticality shown by the sand is the speed of conveying in line. The pipes have included ceramic alumina-coated bends, but if the speed of the material is excessive, there will be rapid wear of the coatings but above all it may happen that the straight pipes or even the pressure vessel can be damaged.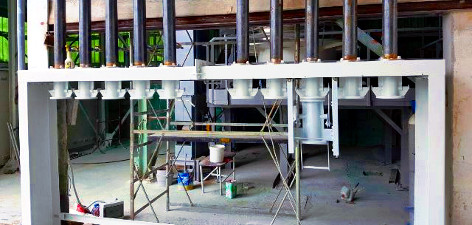 The conveying system chosen by Rosada ILS is a D-PVS type dense-phase pressure vessel with complete pipe emptying and air assisted conveying line (ADA). The air supply has been entrusted to a proportional valve with which it is possible to set different operating pressures, allowing to optimize the air consumption according to the chosen destination as the ten transport lines have different lengths.
For the choice of the destination, Rosada ILS produces a multi-way diverter valve with manual push cart. A linkage ensures the tightening and the tightness of the feeding mouth to the line. The pressure vessel is connected to the diverter valve by means of a hose pipe.