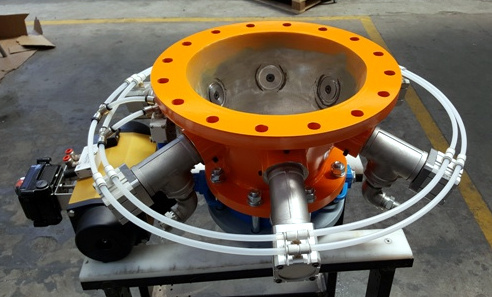 Using a P HPF Pulse - High Pressure Fluidizer system, we realize an important application that solves the problem of the accumulation of different bulk materials that tend to stratify in a non homogeneous way inside the silo, for example because loaded separately in different moments of the operation.
Our solution is based on a special outlet cone at the silo bottom with a number of P-HPF, powered by a compressed air distribution system operating according to suitable sequences. The P-HPF cone creates a directional flow of compressed air inside the silo, which moves from the bottom of the cone upwards and towards the central axis of the storage silo.
This impulsive movement of air allows the materials inside to be raised as the jet of a fountain, then fell towards outwards, obtaining a blending effect that ultimately make the contents of the silo homogeneous.
Among the applications well known and important include the dry ingredients food, that can be mixed pneumatically thus avoiding the use of a mechanical mixer and allowing the insertion of the liquid already in the phase of reaction or dissolution. As well as the possibility of making products homogeneous, for example powder more granules, which stratify in the silo due to gravity and the broad particle size distribution.