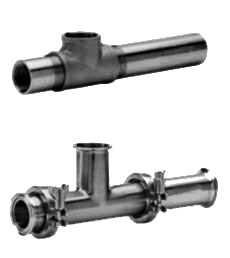 In VE version, the eductor exploits the Venturi effect in the traditional way. The material to be conveyed is sucked through the upper inlet, which is generally a containing hopper or a transition chute, exploiting the vacuum generated by the rear nozzle.
Once sucked, the material is pushed by the fluid itself in the pipeline.
The manufacture of VE Venturi eductor involves the use of various materials depending on the application needs, from standard mild steel to special materials, such as abrasion resistant lining as well as stainless steel with fast coupling clamp for applications in which a high degree of cleanliness is required.
The connections to pneumatic conveying pipes may be for smooth tube ends, for use with low pressure couplings, or flange, up to versions with fast clamp typical of food and pharmaceutical industries.