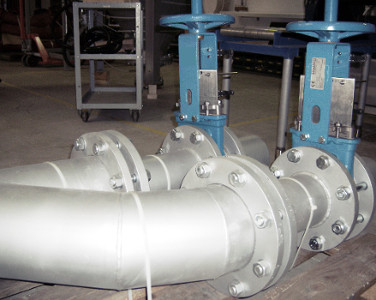 The pipes coated with alumina ceramics are characterized by high abrasion resistance even in combination with high operating temperature. So we use these components when we have to convey very hot materials that give rise to significant wear.
Among other qualities of the alumina ceramic, we can also mention the remarkable regularity of its mechanical characteristics along the section, the high geometric regularity and the possibility to obtain very smooth surfaces.
The necessary raw materials and processes for production of alumina and manufacture of the component, which require expertise and a appropriate hardware, make these products more expensive than the equivalent with basalt coatings, compared with a duration far greater even thanks to an increased regularity of wear of the surface during operation.
Our alumina coatings all ensure a Mohs hardness equal to 9 and are provided with a standard thickness equal to 20/25 mm.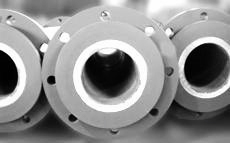 In the design of a pneumatic conveying system for very abrasive materials, the case in which Rosada ILS proposes a mixed supply of components in basalt and alumina ceramic is frequent.
This in order to save the cost of supply, while maintaining a good degree of reliability over time.